About Us at the Slate Roof Warehouse
A division of Joseph Jenkins Inc., 143 Forest Lane, Grove City, PA 16127 USA. Phone: 814-786-9085 or 814-786-7429. Fax: 814-786-8209. Email: mail@josephjenkins.com.
Our physical location is open by chance or appointment.
Joseph Jenkins, Inc. is a business that includes publishing, retail sales in traditional roofing tools and supplies at SlateRoofWarehouse.com, retail sales in roof snow guards and roof snow retention devices at SnowGuardWarehouse.com, and national consulting in slate roofing.
We have been selling online since 2000. Our checkout system is Payment Card Industry Compliant and is highly encrypted by a DigiCert High Assurance Extended Validation SSL Certificate. We will work hard for your business!
Our websites include our publishing web site, our corporate web site, our Traditional Roofing Magazine web site, Slate Roof Central, and our Slate Roof Experts website, which includes information about our consulting services.

Joe Jenkins (below) started working on slate roofs at the age of 16 in Butler, Pennsylvania, in 1968. His book, The Slate Roof Bible, first published in 1997 and now in its 3rd Edition, sprang from the slate roof restoration trade he had developed over the years. Joe also publishes the Traditional Roofing Magazine when he has time, and is founder and Executive Director of the Slate Roofing Contractors Association of North America, Inc.
Although Joseph Jenkins Inc. no longer provides roof contracting services other than consulting, you can contact either Joe's son or step-son for contracting quotes (photo below): Orion Jenkins (on right in photo) (JenkinsSlateMasters.com) and Brent Ulisky (UliskySlate.com).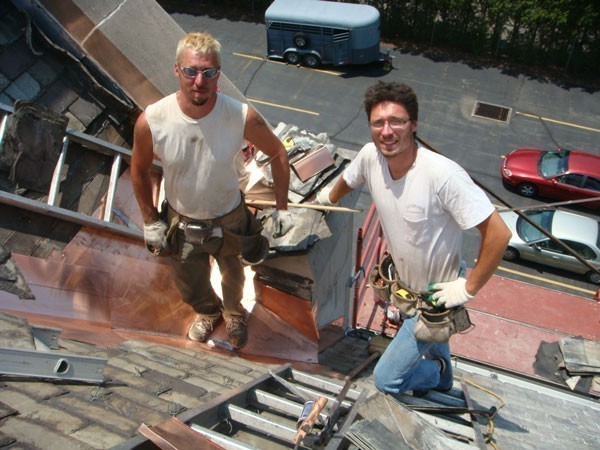 Rachel Powell, Office Manager, answers the phone and takes care of customers:
View Joseph Jenkins, Inc. in a larger map